S T A R S T R U C K: THE ZODIAC COLLECTION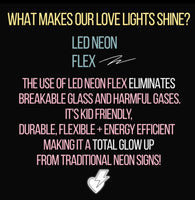 What We Do:
We specialize in high quality LED neon style artwork. 
Our goal is to bring your vision to light.
What makes OUR Love lights shine?
Every one of our signs is made with love and a little bit of magic.
We also use the highest quality materials.
LED NEON FLEX is the reason our lights glow stand out amongst the rest!
ACRYLIC is the material is what we mount our LED NEON FLEX designs to. Acrylic looks very similar to glass, without the potential risk. It is light weight, UV resistant and shatter proof.
All signs have the ability to remain lit for 50,000 hours and include a one year warranty if you experience any mechanical defects.