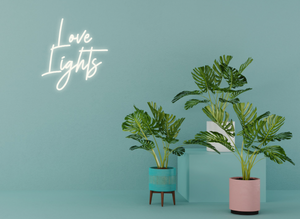 Looking to create a sign for your dream wedding, for your nursery or just to display in the living room?
Click "PERSONALIZE IT" above to create the sign of your dreams! You can choose your own fonts, colors, and acrylic cut style!
Our signs are made with love and a little bit of magic. There is an approximate run time of 50,000 hours and we guarantee them for one year against any mechanical defects!
Have a logo for your business or something more in depth with detail? Email us at hello@shoplovelights.com so we can bring your vision to light and for a custom quote!
Thank you for supporting our small business!
Literally the most amazing creative designs
I'm so blessed to have come upon them by chance and I love everything about these signs! This year I got one for each of my children for Christmas and cannot wait to see their faces! They're amazing and something they can grow with through their lives, night lights now, dorm room lights later on, and conversation pieces into their adulthood! Thank you!!!
LOVE IT!!!
I wanted to order a custom light for my daughter's small cupcake business. Talia spent so much time with me on the design. I could not be happier with what she created!!! It is EXACTLY what I wanted!! I can't wait to surprise my daughter with it!! If you are looking for a light, you MUST use Love Lights!! AMAZING product and OUTSTANDING customer service!!!!
My Craft Room is LIT!!
I designed a new Craft Room/ Office in my house. I needed a space with lots of color to spark creativity. But it was missing a "Wow Factor!" I decided that I wanted to get my company logo on the wall for photo shoots and Zoom sessions. I also needed extra lighting in the space as well. After researching several wall graphic companies, I decided to go with Love Lights. The owner gave me complete design control and let my imagination run wild. I designed a rainbow sign where each letter was a different color. It costs a little more to do it, but boy was it worth it. The customer service was great, communication was superb, the turn around time shipping was quick, and most of all my lights look absolutely Amazing!! - Happy Customer
I'm in Love!!
I'm blown away!! My sign is absolutely gorgeous! Wonderful company, quick response time. Great packaging! Even came with white gloves for hanging. Far exceeded my expectations! I will recommend to anyone looking to get a custom sign! Thanks again!
I love it!
I love my sign! Now I wish I would have went bigger. The customer service was awesome. The processing and shipping was not long at all. I will be ordering again soon!