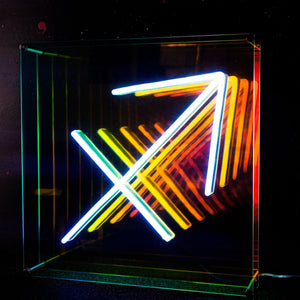 Our STAR STRUCK signs stand beautifully at 18" tall and can be used on a desk or table top, however, if you remove the front layer of acrylic, these signs can also be hung directly on a wall as well.
What makes them unique and amazing is with the front panel which produces a mirroring image that reflects a rainbow of your zodiac symbol for infinity
The LED is placed on iridescent acrylic which provides unicorn like shimmer!
LED will stay lit for 50,000 hours, is nontoxic and extremely durable!
Includes signage, power supply and remote which allows for different features such as dimming and pulsing!

Shipping to the US is also included!
As the zodiac's traveler, Sagittarius is the ultimate free spirit: optimistic, open-minded and ambitious. You're happiest in wide-open spaces with plenty of adventure and excitement.
You juggle a million projects, hobbies and friends. The more, the merrier! Sagittarius is forever pursuing a super-sized goal. Even when you fail, nothing can keep you down. You'll chalk it up as a life lesson and inspire everyone with tales of your experience.
As the sign of wisdom and truth, Sagittarius loves to "tell it like it is," especially when it makes people laugh. However, your honesty doesn't always come in the prettiest package. You've been known to bruise feelings with your bluntness. Cultivate patience, and be careful not to come off as a know-it-all.
Although Sag loves the thrill of a new project or friendship, you don't always finish what you start. Work on keeping your promises and commitments.