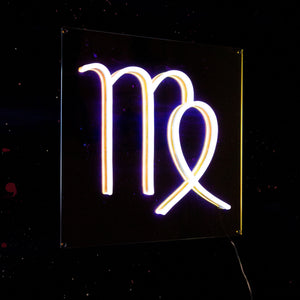 Our STAR STRUCK signs stand beautifully at 18" tall and can be used on a desk or table top, however, if you remove the front layer of acrylic, these signs can also be hung directly on a wall as well.
What makes them unique and amazing is with the front panel which produces a mirroring image that reflects a rainbow of your zodiac symbol for infinity
The LED is placed on iridescent acrylic which provides unicorn like shimmer!
LED will stay lit for 50,000 hours, is nontoxic and extremely durable!
(pictured with front reflective removed - for an example of the mirrored effect, click
here
)
Includes signage, power supply and remote which allows for different features such as dimming and pulsing!


Shipping to the US is also included!
Virgos are always analyzing everything, forming opinions and judgments. On the outside, you seem sweet and innocent, but your quick mind never misses a detail.
Virgo is also the sign of service, and you're always there when help is needed. You're an amazing, careful listener, and as a result, you give the best advice. You love to analyze everything! In fact, you can drive yourself crazy, because you never stop thinking. Virgo is a perfectionist who sees every flaw, and at times, you're a little too critical.
Relax your mind by channeling it into a project, like solving a crossword puzzle, writing a story, or organizing your desk.
Remember, it's easy for helpful Virgo to give, but harder for you to receive. Let your friends pitch in and support you, too! Try opening up a little more. You don't have to be perfect to be loveable. Just be yourself.